Torghast Boost
Torghast Boost is a smooth service that grants you the possibility to farm Torghast fast and with no effort. Our Boosting service is suitable for players who don't want to waste their time on a boring grind.
Product description:
Our PRO player will invite you to party or login to your account and will farm the chosen layers of Torghast, to order Torghast boost you should select layers that you need to farm.
With our Torghast boost you will finish all layers of Tower quickly with no effort. Our team will invite you or the driver will log in to your account and finish the Torghast challenge. Estimated Time that we need to finish service is 1 hour, our driver will start immediately after purchasing.
Torghast Tower challenge needs you for craft legendaries and other Shadowlands objectives, you have to clear "8 layer" of Torghast 2 times per week, if you clear it you will make a weekly cap of Torghast rewards. Our driver will log into your account or we will take your character in our party, we will go to choosen layer of Torghast. With our Torghast boost you will finish it very quick and smooth. This service will suite those who can't spent a lot of time and have no enough gear to do this by yourself.
At the heart of the Maw lies Torghast, Tower of the Damned, a cursed otherworldly prison where the wickedest souls in the universe are locked away. Highly replayable and inspired by roguelike games, heroes are invited to explore its ever-changing halls and chambers and do battle with the minions of the Jailer, Torghast's vile ruler. Those who brave its trials can claim legendary treasures and help free the heroic spirits wrongfully trapped within.
You will get:
Torghast boost of choosen layer (1-12) with all rewards.
Requirements:
60 level.
Account sharing, if you select "account sharing" method.
Torghast Access + Starter Questline
For Example: If you want to go "Layer 8", you have to unlock it, you can unlock it if you will finish all layers before(7 layers(every each layer have to been completed one time).
If you want to unlock 8 layer of all Torghast challenges, you have to finish layer 8 once and you will unlock it for all Torghast challenges.
9.2 Changes
The Two Biggest changes in Torghast mode in Chains of Domination patch is Torghast Score system and Torghast Talent Build. Now if you try to rush Torghast and don't save the souls and other other activities you will get low rating and can't go to higher layer of Torghast.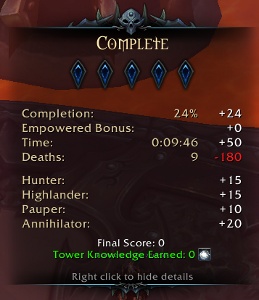 Now to clear Torghast with high rating(4 stars+) you should to save souls, destroy all objects, kill all enemies, use the empowerment and open all stashes, everything all of that activities will give you additional rating and help to rach next level.
Why Us?
Lowest Price. If you will find same service for lower price, we will give your price better than you found.

Quick Response. We always ready to start work on your order.

24/7 Support. We can answer all your questions any moment.

Scored Boosters. Experienced players with highest ranks, skills. All boosters are verified.

Our Own Guild. Our guild takes the best world ranks every each raid tier and always ready for most hard objectives.

Quality Control. All of our team are professionals. No cheating, bots, no third-party soft. Everything is fair.
1. Choose Service
Add product to your shopping cart please
2. Payment
Finish the payment through the site
3. Manager
We will contact you within 15 minutes and talk about details
4. Finish & Review
Service finished, leave a review to help other people make the right choice
See Also